A wise man once asked: "What the hell just happened?" And for good reason. There is value in looking back. It gives us all a good gauge as to what is good, and more importantly, what is not good, going forward. Sure, the "clip show" is mostly a cheap (affordable?) device to create new content out of already published stuff. But they're also a good way to catch up in case you missed something. So cue the flashback music. Here's the very best from the month that just was…
The 50% off deal expired yesterday, but that 20% off $100+ code HEYSPRING should be running clear through April 15th. So, sit tight. Could have another screamin' deal crop up between now and then. Yet it probably won't be 50% off almost everything, including suits. The Worsted Wool Thompsons (before they sold out) were going for $175 after stacking that code. Summer suiting was going for as low as $106. Those prices are incredible, and they hadn't dipped that low in a good long while. Sure, to take advantage you had to either get something on the spendy side, or, stock up on cheaper stuff… but if you did, the end result was downright inconceivable.
And those brands would be Franklin Tailored for suits and sportcoats, and Franklin & Freeman for shoes. But the key word here (other than "franklin") is potential. Gut feeling is that they're just gonna use these new fashion brands to plug some holes that 3rd party brands aren't currently filling. If they were to really push developing the styles and variety of these brands? Then that could really be something. But, that feels kinda doubtful. While the debut of the collection was certainly decent (especially for the prices…) it wasn't anything too crazy. Full review of multiple pieces can be found here.
Look. We try and keep it pretty positive around here. There's too much finger wagging and raining-on-parades on the internets. But after a while, some things just are not worth all the damn fuss. So, kudos to those who know when to stop the fussing in order to get out the friggin' door.

Made in Portugal. Good quality suede. Might even have a stitched welt. Absolutely worth trying to find, in-store, if you like the style and can stand a trip to not just the mall, but a trip to H&M and all the chaos that can come with it.
Best New Shoes that Sold Out, but got Restocked: "Astorflex" Boots
Not cheap at $130, but not outrageously expensive either. Made in Italy from super soft suede and all natural soles made outta pure latex from Hevea brasiliensis trees. Sold out immediately, but Huckberry got some more back in stock. Efforting an in person review.
So much schmaltz it's cringe worthy. Was PBR really targeting the disco set back in 1979? Would anyone really go tear it up on the dance floor, then settle into a stomach inflating PBR between ABBA tunes? The dots just don't seem to connect.
Best Supporting Actor in a Non-Speaking Role: That Yellow Post
He's like a mute Beaker. Yet a commanding presence. A dynamic impact on the scene. A mysterious, stoic character to craft the story around.
They're long gone now. T'was a clearance blow out. Originally priced at $690, which was just too steep in the eyes of many. But $345 seemed like a pretty drastic dip. Super classy design that does well with everything from suits to a t-shirt and jeans. Congrats to those that got em. Review here.
Wear it now, wear it later. Lightweight but not flimsy looking. Examples of outfits plus a review can be found over this way.
Most Impatience felt for a new show to start: Taboo on FX
Still no release date yet. Just sometime "in 2016." Want to see this. Want to see this now.
Easiest Way to Work in Some Spring Color: Icy Blue or Green Chinos
Now's the time, and these shades are getting much more popular. Look for blues that are lightened up, but still lean cool and clean. Greens will range from everything to a true springy green, to washed out olives and darker forest shades. Super easy to wear now with a polo or t-shirt. (Shown above are chinos from Old Navy and GAP.)
Hardest Email Request to Fulfill: End Dappered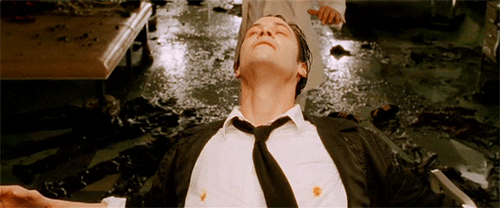 Hello. You write a fashion blog, but you obviously have no idea what you're talking about. How can you give advice on fashion, when you don't know what you're talking about?? You should really think about stopping.
Nah. At least, not yet.