Fall 2016 – Best New Arrivals in Affordable Men's Style
It is arguably the best style season of the year. Fall. Cool enough to wear layers and perhaps mix in some patterns, but not so bitter that the goal is to ward off hypothermia instead of looking your best. Boots, suits, outerwear and more. It's a good time. And even if the climate where you're at hasn't even begun to approach autumn feeling yet, that doesn't mean you can't look forward a bit. Or a lot. Here's the very beginnings of this year's affordable men's style autumnal crop, long before harvest season gets underway. As always, the new arrivals usually take a little while to drop in price, so keep that in mind.
Not your Professor's poop-brown cord number. Much more modern. Green = more casual. Blue = pair it up with some dark wash denim, a crisp white shirt, and sleek boots, and you've got a go-to nice (but not super dressed up) date outfit.
That's just a silly low price for these things. Made by one of Amazon's in-house fashion brands, and yes, the tags really do say "made in Italy." Soft, nubuck suede exteriors. Lined in a lighter weight shearling. Available in the grey that's shown above, as well as a cognac or black. Sizing seems to run true. UPDATE: Many thanks to Thomas B. for sending in the heads up that as of mid-day Monday, Amazon has REALLY jacked up the price on the grey options. Their pricing algorithms seem to get really weird sometimes when an item sells faster than anticipated (or, sales just accelerate from zilch.) So now? The grey pair? Over $100. Yeah. No. Nope. Nyet. Wait till they come back down, or, go with another color.
All wool exterior in a perfect, dark navy. Guessing that if you really wanted to close that top button, in case of particularly brutal weather, you probably could without issue? Since it's Suitsupply, it'll ship and return for free, so you can try it out for yourself in person if you so desire.
Yes, almost half a grand for a Cole Haan briefcase is steep. But look at it. LOOK AT IT. Not bad, right? And knowing Cole Haan, it'll come down in price by a little, if not a lot. Keep an eye out on both 3rd party retailers as well as direct through CH for sales and price drops.
Blackwatch isn't just for the holidays. Wear it with jeans and under a pale grey merino v-neck or just as pale and just as grey of a sportcoat. Certainly spendy to start, but should drop in price with promos and codes. Nice to see that they're making it in their slimmer cut too, which for the lean fellas, is worth seeking out.
One of AE's newest, more fashion forward models, and they knocked it out of the park. Full review here.
Same one as they ran with last year. Very pleased with it too. Fabric makeup should be the same 70% wool, 30% nylon blend, with a 100% acetate lining. Very impressed with the feel of the fabric. It's substantial, but not stiff or cumbersome. Drapes nicely and moves well. Non functioning sleeve buttons and a bit of a taper at the waist. Elbow patches as well. Sized in chest sizes, instead of the ballpark S/M/L/etc. Code TIMETOSHOP gets you 15% off $75+, but exclusions apply of course.
Wondering…seriously wondering… if these might be made in Italy like 1901's crepe sole chukka? If so, then they might be a major steal. Looks to have more structure than a standard desert boot, and along with that structure, the sole also helps increase their ability to be dressed up a notch. Ships and returns free since it's Nordstrom.
On backorder but should ship, at the latest, in September. Maybe late September. 40mm case with a dart-board style layout. Uniform, but doesn't take itself overly serious.
The good news? These things are 70% wool and 30% poly (with an all polyester lining). The bad news? The sleeve buttons are functional. Again. STOP DOING THAT RETAILERS. Especially if your tails have a tendency to run short and your sleeves tend to run long. But that doesn't mean you still might not luck out, or, your tailor could possibly work some magic? Meanwhile, the fashion-forward mod turtleneck on the right could actually be pulled off by some of the more adventurous among us. But that mock neck on the right? Probably best to just stick with a collared shirt.
Does carry the "Everyday Steal" label with em', so it can be tough to find a code or promo that doesn't exclude them. But discounts do happen (think sitewide, no exclusion deals) and when they do, they're one heck of a pant for the price. 97% cotton. 3% spandex. 4.7/5 stars after 97 reviews. Not bad. Also available in a straight fit, albeit in not nearly as many colors to pick from compared to the slims.
Thank you, JC Penney, for knowing when you have a good thing (or in this case, things) and sticking to it. Descendants from the original Camlin wingtip boot, these have oddly good leather for the price, seem to hold up decently over time, and have a shape that's just sleek enough to wear easily with slim jeans and a sportcoat.
That texture. Good gracious. Hints of nautical inspiration without going to the full cable knit. Shawl collar cardigan is also available in navy, while the crew is available in five total shades. Now if they could just make the crew in their slimmer fit, and we'd be in business.
All wool exterior. And this year, it looks like they've made the switch to rayon when it comes to lining the body of their sportcoats (at least for this one). That's a plus, since rayon at least breathes a little bit better compared to poly. Often on sale.

An annual favorite. Not a chunky sweater in the least. Downright thin. But not see through, and super strong. And that makes for a perfect layering piece (since it won't overwhelm a shirt or be super thick and mushy under a blazer). Shown above is a size medium on 5'10" / 185. Easily one of the best things UNIQLO makes. On sale often. Tons of colors to pick from.
Gustin's Made in the USA boots, now in Horween's famous shade of burgundy Chromexcel leather. $215 seems like a bargain for these American Made, Goodyear welted boots, but know that returns/exchanges can be a bit tricky (if not flat out just not gonna happen). Plus, you'll have to wait for them. A while. Scheduled to start shipping in December.
Gahhhhh-ly (Golly) does this thing start out high. But that muted pattern is dead square perfect. 82% Wool, 7% Silk, 7% Linen, 4% Cashmere blend. Available in either their true-slim fit (with a shorter tail mind you), or their accommodating but not billowy standard fit. Five bills is a lot to ask for a blazer. What do I know (the answer is = not much)… but that seems steep for Bonobos? So maybe it's destined to come down in price?
A good option for the thicker legged crowd. Medium weight denim with noticeable amounts of stretch. Not nearly as stretchy as the BR traveler, but more accommodating through the thigh and calf for sure. Make sure you wash these before wearing, as the color can bleed onto light colored stuff. Size shown above is 33×30 on 5'10″/185.
Awesome. BR is making Chelsea Boots once again this year. And if they're like last year's "Ty" Chelsea boots? They'll be winners and then some. NOTE: These drop to $106.80 for card members when they use the code FALL40.
Another winner from Suitsupply. Italian wool that's seasonally appropriate without being too thick or stiff. Soft and drapes nice and easy. Just half lined in the back. Just enough pattern (and just a touch lighter than a dark blue) that it looks dynamite with dark wash jeans. Size shown above is a 40R on 5'10" / 185lbs. Also shown at the top of this post.
Another sweater that you'd think is gonna go on sale for 25% – 30% off depending on what kind of code comes up. Nice combo of navy blue accents and the blue/white birdseye stitch body. Also super glad they made it in Merino instead of Cotton. No knock on cotton, but wool, especially merino, is just flat out superior.
Almost certainly made in Portugal like their other "Premium Quality" suede shoes. Not your average desert boot. Much more dressed up, but still easy to wear with jeans and a sweater. Slim sole. Brown or dark blue suede uppers. Currently 30% off, but just through today, with the code.
What… is THAT? Saw this on Saddleback's twitter feed. They're saying this took seven years from initial idea to final design, and it seems like they're gonna put these into production? Maybe? No word on pricing yet either.
BR always puts out a noteworthy trench coat. But this year? In addition? RETURN OF THE MAC! You're welcome. Anyway, both are available in a standard khaki, or black. Might have to sit tight and wait for the BR Picks label to come off these things.
Not a new arrival, but instead something leftover from last year. And tons of sizes available at post time. This is a knit sportcoat, so it's somewhere in-between a true sportcoat and a sweater that's cut to look like a sportcoat. Italian Merino. And get a load of those peak lapels. Laid back luxury.
Chelsea boots and they're made in grey suede? Well that's right up this editor's alley. Now, that said, the stitching and shape might be a little too mod for some. The price sure is right.
97% cotton / 3% spandex. But it might have some sort of water resistant coating to it? Maybe? Doesn't look like a pure cotton trench from the online pics. Tough to beat a dead simple, navy mac. And this one, as long as it doesn't really disappoint in the quality category, could be a serious steal depending on sales and codes.
A heads up. These are probably gonna look a little darker than they do on the J. Crew model. Seems like they're letting last year's reviews carry over, so one can assume that the colors would be the same? If that's the case, the grey option should look darker, as it does above, than the pale grey shown on J. Crew's model. Also available in a Crosby fit this year.
Has a bunch of potential to turn into a go-to "house" sweater that you grab when the temps start to dip. 55% extra-fine merino wool, 25% nylon, 20% cotton blend. And it looks like the knit has a nice bit of texture too. Should be on sale often if not always.
Was $350, and now they're $100 off through 9/5 as part of their "Best in Class" sale. Horween leather uppers. Goodyear welted and made in the USA of course. Subtle, studded, Danite rubber sole. Full review here. Not bad for half the price of an Alden Indy (no knock against the Alden Indy of course…. it's a legend for a reason).
Those would be some seriously bold patterns. Plus, on the grey one, you're getting the added texture of Alpaca. So know that up front. Fingers crossed that somehow one of these makes it into the outlet? If they bring it back after the holidays? Red jacket is a blend of wool, linen, and silk.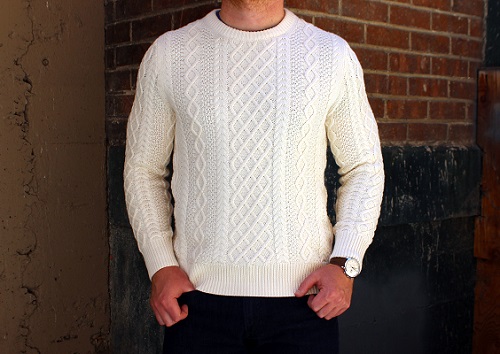 Recently mentioned in the best bets but certainly worth mentioning again. A good fisherman's style sweater is something to behold. Problem is, they're all cut pretty bulky. JCF's slim fit is the answer. Cut close enough to the body that if you don't have a gut, you don't get the classic fit bulky sweater roll around the middle. Size shown above is a medium on 5'10" / 185.
Expensive. But sit tight. If last season was any indication, Canvas by Lands' End WILL go on sale at some point. 80% wool / 20% Nylon. Quilted lining. Peak lapels. Trimmer fit.
Disappeared for a season or two there, but they're now back and available on their site. Totally unlined, so, not the warmest of things. But perfect for those days where it's a bit chilly. Pictured above is a very well loved, and often used pair. You'll have to work on developing a patina like that over time.
Two of Spier & Mackay's latest. Still year round fabrics, but the description says these new suits have an even softer, more natural shoulder compared to the model 2 jackets? Both the indigo blue texture and the Prince of Wales are available in either slim or contemporary fits.
Perfect, versatile, deep dark brown shade of leather. Construction feels solid. But it's the lug sole that some are gonna have an issue with. Even though it's subtle, it's noticeable. Especially at the heel which you can easily see the "teeth" of the sole on. Makes em' look much more casual than most other chelseas. Also available in a lighter shade of suede, but with a crepe sole.
Not wool, which is a bummer, but the stretch factor should provide some extra comfort. Mainly cotton. 20% poly and 2% spandex. Deep, dark blue with what appears to be a subtle pattern. Should drop to $60 – $70 depending on the code and pin that they're running.
Not available yet (UPDATE: They just launched this morning), but they do put out a set of lightweight, wool blend topcoats every single year. The good: they're inexpensive and usually fit extremely well. The bad: Unless you're layering, heavily, they're not really great for anything 20 degrees or below. They are NOT the warmest thing in the world. But, they look great. Solids. Patterns. Etc. Keep an eye out for them. Shown above is last year's mid-grey plaid option. Looks like they've gone darker this year?
These look a LOT like the Bonobos Travel Jean, which run $108 at full price. So maybe worth giving this J. Crew option a look when they're on sale? Cone Denim, just like the Bonobos travel jean. Made in LA. Just a 14.75″ leg opening, so, thunder thighs types need not apply.
This is total hope and speculation. I have zero inside evidence that the Polaris is coming back into stock. But it was out of stock a few months back, made a quiet return, and has since sold out again. Maybe Japan can ship a few more over this way to the states? It's seriously one of the best looking watches under $500 on the market. Blue hands. GMT function. Power reserve. Tons of class.
It's from their Canvas line so it's: A. gonna fit noticeably trimmer, and B. be more expensive. But despite LE claiming all this Canvas stuff is excluded from promos… it does go on sale from time to time. And Giltcity recently ran a promo for them, so, savings can be had. And they better be. $140 for a sweater is asking a lot.
*cough cough* giveaway tomorrow *cough cough*… Sitting at full price at seemingly all retailers right now. Even Amazon. You'd have to assume that'd change though. Leans more modern, but doesn't get too futuristic. Absolutely suit worthy.
A classic wool pant in a subtle but still eye grabbing glen plaid pattern. Wool/poly blend. another 14.57″ leg opening, so a true slim. Hoping for a sale.
For those unexpected, and seriously annoying, warm days that crop up every fall. BR claims these polos wick moisture away from your skin… yet they're listed as 100% cotton? Not some technical fabric or blend? Hmm. Well, at least the contrast collar has a bit of a retro thing going for it, and sure does look good. Expect these to be on sale often.
Obligatory. Because… look at those things. Comes standard with a slim, v-tread sole for grip. Premium leathers get lots of show time thanks to that uninterrupted, stitch free look. Full review here.
GAP's version of big brother BR's traveler jean. Fabric composition is 85% Cotton, 13% Polyester, 2% Elastane. So they're more engineered than your average pair of 97% cotton / 3% spandex jeans. Perfect deep, dark shade of blue. Now if they'd just make some in a straight cut.
Started out at $279 and has yet to budge (UPDATE: And just like that, they've upped the price to $299 overnight.) Always excluded from promotions. But it's pretty darn close to perfect, if you're the suede jacket type. Full review here.
Straight outta… Oslo. Very much has a nautical/Scandinavian thing going for it. 60% cotton / 40% acrylic (it is Old Navy we're talking about here, so, no… it's not wool). Should drop drastically during sales and promos.
CURRENTLY SELLING EVERYTHING ON EBAY TO FUND THIS (not really). Look, $649 is far from cheap. But for a 100% cashmere topcoat, especially in that eye-catching shade of light grey… you're gonna get plenty of use out of it. That's for sure. A total classic that you'll use for years if not decades to come. Just don't spill coffee on it while walking down the street. That'd lead to an unfortunate bit of public weeping.
Because there's hardly a better day on the calendar when all the good looking women out there seem to wear riding boots out into the fall air all on the same day. It's like they coordinate it. And God bless em'.
Got a tip on a new fall arrival? You can send those into joe@dappered.com