It's one of the most anticipated sales of the year. Nordstrom doesn't run many sale events . But when they do, they catch a lot of (deserved) attention. It's not just their free shipping & free returns on everything policy, it's what they carry, and what they're willing to mark down to get your attention. Especially when it comes to their Anniversary Sale.
Unlike the half-yearly sales & seasonal clearances, which see in-season goods get marked down, the Anniversary Sale is mostly a preview of the upcoming season. Lots of fall goods or year-round stuff gets decent price cuts. And that's a rarity in the retail sale game. It's very much an I'm-looking-forward-to-wearing-this sale. And now that we're knee deep in the worst season, stylistically, looking ahead to layers, boots, and blazers can be quite a bit of fun. Everything, as always, ships and returns for free. Prices go back up on August 8th. Here's one interpretation of the best of the best for us guys:
One of the stars of the Anniversary sale. Yes, the "Dark Chili" color does lean closer to red than brown, but that doesn't mean it's still not versatile. Wear it with blue suits. wear it with grey suits. And no, you don't need to pick up a belt to match them perfectly. Whatever medium or dark brown belt that you already have should do just fine. Huge fan of the Cornwallis design. Full review (of a brown version) can be found here.
Regularly $69.50. When these things go on sale, they're one of the better dress shirts on the market, bang-for-buck. Subtle herringbone pattern is a nice bit of detail… if anyone happens to notice.
And now in a basic check/gingham pattern. Wear the navy option with a medium grey or even charcoal suit, and a solid knit black silk tie on top for a mix of classic and modern.
Seems like Nordstrom offers up a drool worthy USA Made boot each year. And this year, it's another cap toe option from Wolverine (they did something similar last year). These'll see a ton of use once the weather finally cools off. Legendary craftsmanship and good looks. Oh, and that name for the boot. This is obligatory.
All wool, fully lined, and designed by the well respected Todd Snyder. It's a basic, but it should be a basic that you can lean on for years and years, and years to come. Nice to see a "Made in the USA" label on it.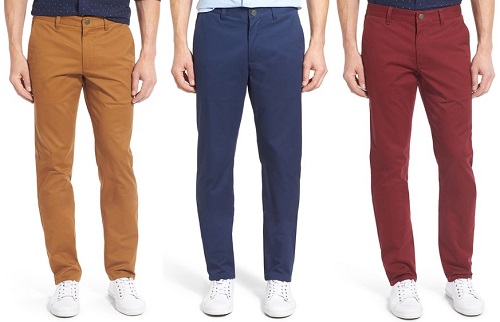 These are almost identical to their flagship washed chino pants. But the difference is a hint of stretchhese pants (2% spandex). Still comes with that arse-flattering curved waistband. Lots of good colors to pick from.
And here we have Nordstrom's in-house, cheaper version. No stretch here. All cotton. And they probably don't have the Bonobos butt geometry. But… they're almost twenty bucks cheaper.
Prices have gone up on labor and materials, so the price on a pair of Allen Edmonds has also gone up over the last couple of years. But $260 for a pair of shoes that look, feel, and wear this good, is more than fair. A bargain even.
Interesting that this one is called a "stretch" wool suit… but it's 100% wool. No synthetic/lycra/silly putty in there. So, not sure what makes it "stretch"? Anyway, it's a basic, trim fit, navy wool suit, made in Canada and now at a price you'd find a Suitsupply blue line alternative at.
Seems a little spendy, even with the big price cut, for a lightweight jacket. But Billy Reid does nail the details, and the quality is always there. Bulk is kept to a minimum on purpose. Smaller, diamond quilted pattern. Good looking suede elbow patches. Available in dark grey or navy.
Won't turn heads like the Cornwallis or Strand, but won't get any super-conservative boss's knickers in a twist either. Classic dress shoes. Interviews, weddings, etc. Available in brown or black.
Say it with me fellas… polished. cotton. blazer. Something that's quite nice to have on hand if you can find room in the clothing budget for it. Never heard of the brand, and while there is just one review, it's glowing. 98% cotton, 2% stretch.
Big fan of this thing. Made last year's best-affordable outwear list, and for good reason. Quilted front panel for extra wind resistance/insulation, with the rest of it being a knit, breathable lambswool. A nice alternative to 007's from Spectre. Size shown above is a medium on 5'10/185. And please pardon the flecks of snow. It was starting to weather pretty good during that shoot. Also available in navy.
Made in the USA stompers for when the weather starts to turn. Classic Moc Toe and rubber sole. Goodyear Welted.
Pretty spendy for a Japanese Automatic. Now, it does hand-wind. But it doesn't hack. It does come with a sapphire crystal face, an exhibition caseback, and that blue dial is pretty darn attractive. Also, the weight to it is nice and substantial. Not flimsy in the least. But there's a lot of marketing going on with this brand. Lots of things on the box/papers like "American by Nature. Individual by design." Yet the movement is from Japan and the tag says the "strap" (even though it's a bracelet?) is from China. So… yeah. Right. There are slight wiffs of "all hat no cattle" wafting through the air. Even though it's a really good looking hat. Quite a nice hat. But a $365 hat? … we're still taking about watches, right? (Translation: Unless you're in love with the aesthetics, this is probably a pass fellas.)
Both by Barbour. Both available in either Navy or an earth tone. The Canterdale has those chest high hand-warmer pockets though, which might come in handy. It's also cheaper than the explorer. Originally $225 for the Canterdale and $249 for the Explorer.
Yep, made in Italy. Eighty bucks. And they're nice in person too. Gonna shoot some more photos/do a write up for a complete review next week, but know for now that they've got a touch more structure than a Clark's desert boot (so you could dress them up a little more, comparatively) and they can look a little more grey in some light compared to the brownish leaning hue on the Nordstrom site. Nice, basic boots for $80.
There's something… rakish(?) about the Carlyle. Maybe it's all that un-interrupted leather. Or the slightly wider than normal laces. But as plain as they are, they really stand out. And they're one of the few dress shoes that should look good with suits, and then later on in the week with dark denim. Also available in black and dark chili.
No "Stretch" label here. Trim Fit. Subtle stripes, not crazy thick gangster chalk stripes. Made in Canada. Would look pretty good with those walnut Carlyles or Strands.
Probably a little sleeker than the Park Ave. And that shade of bordeaux leather. Good gracious.
Made in Italy double monks with a perfectly shaped toe. Available in either brown, or black, and no… you don't get one of each color. No matter how nice you ask or what you think the image above might imply.
For the very slim fellas. Appears that these have more of a spread collar to them than the semi-spreads their plain ol' "Trim" fit shirts seem to have? Maybe? And that full spread might make them a little tough to wear tieless.

All cotton blend, all made in Italy, all great for the guys who like a little flash in their sock game.
Chambray uppers. Plimsoll design. Reinforced eyelets, rubber outsole, and rawhide laces. Classic, summer kicks.
Really good looking design. As previously stated, not a heritage brand. Far from it. But the feel and finish of the previously mentioned automatic was really nice. Just gotta decide if the looks are good enough for you to jump on either of these two quartz options. Mineral crystals, but they do come with super-luminova coating for good night visibility. Fat crowns also invoke the history timepieces have had with aviation over the years. Both are 42mm in diameter.
Just under two hundred bucks for a legitimately tough, made in the USA boot from Red Wing. Goodyear welted too. Leather shade is called "Billy Beige." A little more subtle than a walnut or tan shade, but won't blend in like a true brown or black either.
From one of Nordstrom's dependable in-house brands. A basic lace up in a few different shades. Nothing wild. Inexpensive. Not suit worthy, but more of a jeans and chinos shoe.
Obligatory. Multiple colors available. A great time to stock up. The argument for "why" you should get these can be found over here. Normally $12.50 for the mid calf and $14.50 for the over the calf. Allen Edmonds Whole Cuts not included.
Just try to keep your drawers off the lamp and in your drawer.
Kinda liking that "copper" leather. Looks matte and marbled. A casual wingtip for sure. Not gonna be dressed too far up, but could do some duty with white chinos and a navy cotton blazer in the heat. Also would look great with jeans and a sweater when the temperatures start to drop.
Lotta shoes in this post. Lots. So you'll need some of these. Nice quality too. Smooth operators, unlike cheaper versions made in China that can be a bit sticky when it comes to their springs. Like everything else, they ship and return free.
The Nordstrom Anniversary Sale runs through August 7th, after which prices return to their normal levels. See an item in the Anniversary Sale that deserves a mention, but wasn't in the above picks? Got in-person experience with it? Send in those tips to joe@dappered.com.