Here come the Labor Day Weekend sales.
So here's the bottom line about 50% off sales at JCF. They're good. Not amazing. Not the best ever. But usually they're better than the average code/promo. How is it that half off isn't bananas fantastic? Well… it's those pesky exclusions (suiting is one of them), plus, the "valued at price" is the number they cut in half. And those valued at prices can be pretty steep. But still. It's a big weekend coming up, so J. Crew Factory (along with the rest of the retail world) is looking to move product. So the prices are gonna be at least good. If not great. And some of their fall goods have dipped lower than they've gone for yet this season.
Code WOOHOO gets you an extra 50% off clearance, but no code is needed for the non clearance stuff. Here's one interpretation of the best of the best available now:
Well look at that. A price drop. Started out at $279 and was just up to $299. Now down to an awfully tempting $239 for the labor day weekend. (And yes, I realize that's not "half off" the $399 "valued at" price. But leather stuff is obviously gonna get excluded.) Pretty darn close to perfect, if you're the suede jacket type. Full review here.
Haven't gotten hands on with one of these. Yet. But the Cotton/nylon/merino wool blend has potential, as long as there's at least a decent amount of the latter two in the mix.
Twenty bucks isn't bad for a button down. Easy to wear on its own or layered under a v-neck / crew neck sweater. Washed, so, a poplin that's not as thick or stiff as some oxfords can be.
Nice price here. Usually goes for somewhere between $125 – $145. Plus, it ships free since it's over a hundred bucks. This is the same one as they ran with last year. Very pleased with it too. Fabric makeup should be the same 70% wool, 30% nylon blend, with a 100% acetate lining. Very impressed with the feel of the fabric. It's substantial, but not stiff or cumbersome. Drapes nicely and moves well. Non functioning sleeve buttons and a bit of a taper at the waist. Elbow patches as well.
Well reviewed, and those reviews seem to indicate that it's not overly bulky. Perfect for these transitional times, plus, should be easy to layer under when the temperatures take a serious nose dive in the months to come. Another better looking alternative to a hoodie.
Speaking of transitional layers. An easy to wear vest that's made from a blend of cotton and nylon, so it knocks down the shine of the shell. Quilted lining, but not so puffy that it looks like you're wearing a life jacket.
Goodness. Everyone is doing selvedge these days. But don't expect these to be some super stiff, dense things. Word from the reviews is that they actually might be pretty lightweight? Which some might actually prefer.
Inexpensive henleys, and an example of how you can still look really, really good, even when you're super dressed down. A henley with a pair of dark, well fitting jeans and some desert boots > a ratty graphic tee, cargos, and running shoes. Always.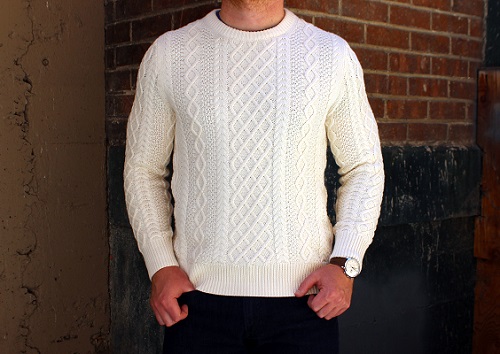 The fit really is the winner here. Available in their noticeably slimmer fit, it'll be hugely appreciated by those who don't like having all that extra around the middle with their sweaters. Meanwhile, it's cotton instead of wool, but thankfully they went with a hardier cotton instead of a squishy/overly soft & fuzzy version. Has a sorta crispness to it. Perfect for fall and feels like the kind of sweater you should be outside in. Not the gooey type you'd wear while rotting on the couch with strep throat. Size shown above is a medium on 5'10" / 185. Was just going for $55ish – $65ish.
One potential hiccup here. These shirts are clearly under the "Slim" section, but the description calls them regular? Might not be as slim as others.
The washed leather belt is "imported" and word from the reviews is that it's a bit lighter in color in person. Also one person said the leather's dye bled all over his shorts? Strange. I have almost the identical belt (from last year) and haven't had that trouble. But… well… it is a $20 belt. Meanwhile, the USA made belt, with the bigger, more rugged looking buckle, is going for the same price.
One of those basics that if you're patient… might dip into the $20s down the road (with a deep sale and a stacking code). Still, fall is right around the corner. So if you want em' in house when the leaves start to change, now's not a bad time to jump.
A couple of basics in case you're edging up towards the free shipping at $100 threshold. Both are hugely versatile, and that chambray would look great with a navy blazer and dark wash jeans.
The 50% off J. Crew Factory / extra 50% off clearance items code WOOHOO runs through Sunday 9/4. Wonder that they have cooking for Labor Day itself on the 5th?